How will you incorporate edibles and topicals into your business?
Canadian regulatory authorities have adopted a very conservative approach towards cannabis products to date. With the recent release of the framework surrounding additional finished products, we're seeing more of the same. "Cannabis 2.0" includes a framework around edibles, topicals, and cannabis extracts.
Controversially, the existing food regulatory and inspection regime in this country won't have much of a say when it comes to controlling edibles and infused products. The Public Health Agency will be responsible for oversight. It is clear that the government has taken the stance that edibles are considered a drug rather than another category of consumable goods.
"A full rollout amongst a nice wide array of producers and a wide array of these new product types is going to take time, literally years, because we have such a licensing backlog." Trina Fraser, cannabis lawyer, partner at Brazeau Seller Law in Ottawa
Edibles, Topicals, and Extracts Category Overview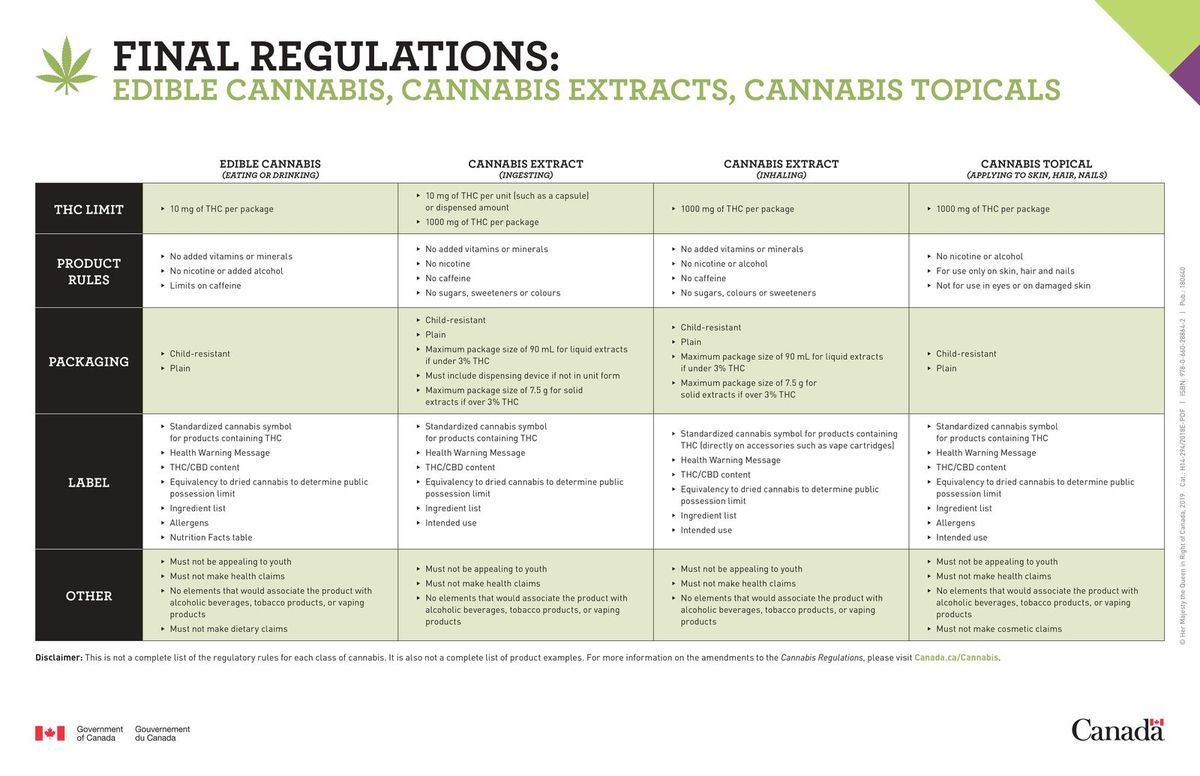 Branding plays will face difficult headwinds considering the government's decision to continue with plain packaging guidelines. This also includes the provision to stamp edibles with the existing standardized cannabis symbol and health warning messages. How will you stand out in a crowded market when all the packaging looks the same?
When can you expect to get your hands on new products? Don't expect to see them earlier than December. The regulations includes a provision where producers must notify the government 60 days in advance of the introduction of a new product.
Whether you are looking to determine how regulatory or industry changes will impact your plans, find solutions to streamline your operation, or are just starting to draft a business plan, GrowerIQ is here for you with software and consulting services to help you build and improve your business.
We make the process simple. Start now by submitting the form to the right, or start a chat with us. For more information, and actionable tips from our Master Grower on how to improve your yields and processes, please visit our GrowerIQ's cannabis consulting services page.
GrowerIQ is a complete cannabis production management platform. Ours is the first platform to integrate your facility systems, including sensors, building controls, QMS, and ERP, into a single simplified interface.
GrowerIQ leverages proprietary machine learning algorithms to improve facility automation and provide producers with insights to improve quality and consistency. GrowerIQ is changing the way producers use software - transforming a regulatory requirement into a robust platform to learn, analyze, and improve performance.
To find out more about GrowerIQ and how we can help, fill out the form to the right, start a chat, or
contact us
.
Start today.
Let us know how to reach you, and we'll get in touch to discuss your project.
GrowerIQ does not share, sell, rent, or trade personally identifiable information with third parties for promotional purposes. Privacy Policy