Which license class is right for you?
Health Canada introduced several new classes of cannabis cultivation licenses with the Cannabis Act. The standard cultivation license is perfect for larger producers, especially a licensed cannabis producer. This class of license doesn't have a production cap, and so comes with a higher regulatory and security clearance burden.
GrowerIQ's Master Grower, Shlomo Booklin, has worked as Head Grower for some of Canada's leading operations' cannabis cultivation planning, such as Tilray and MedReleaf. Having managed the production of over 100 million plants, he has refined his growing techniques and trained others in the industry on how to produce safe for consumer, high-quality, cost-effective products. Unlike some other consulting firms, GrowerIQ brings you deep industry experience. Shlomo's 30+ years of commercial growing experience means that our experts will help craft your application submission taking into account what actually works in practice.
The standard cultivation license does not come with a plant canopy production size limit, unlike its micro-cultivation counterpart. Along with increased production capacity, Health Canada expects you to adhere to a more stringent regime of security and regulatory protocols.
For example, unlike a micro-cultivation scenario, your standard cultivation facility will be expected to adhere to a higher degree of security: maintain storage area records of entry and exit, continuous visual monitoring and recording of the perimeter, and regular monitoring of an intrusion detection system, including response handling. These are just some of the expectations that go along with your standard cultivation license.
No matter how much space you devote to your production facility, our Master Grower's proven high-density grow method will form part of the cultivation planning process we undertake with you.
What should I expect during the standard cultivation license application process?
Health Canada wants to ensure that you've thought out every aspect of your business, and included those plans in your application. This includes obvious areas like your physical security, cultivation, and production plans, but also extends to business organizational structure, key investors, and your facility's Standard Operating Procedures. Ensuring that your standard cultivation application contains the requisite level of detail is one way to help the application process flow smoothly. The experts at GrowerIQ inform our planning process with actual comments received from Health Canada's review of previous applications.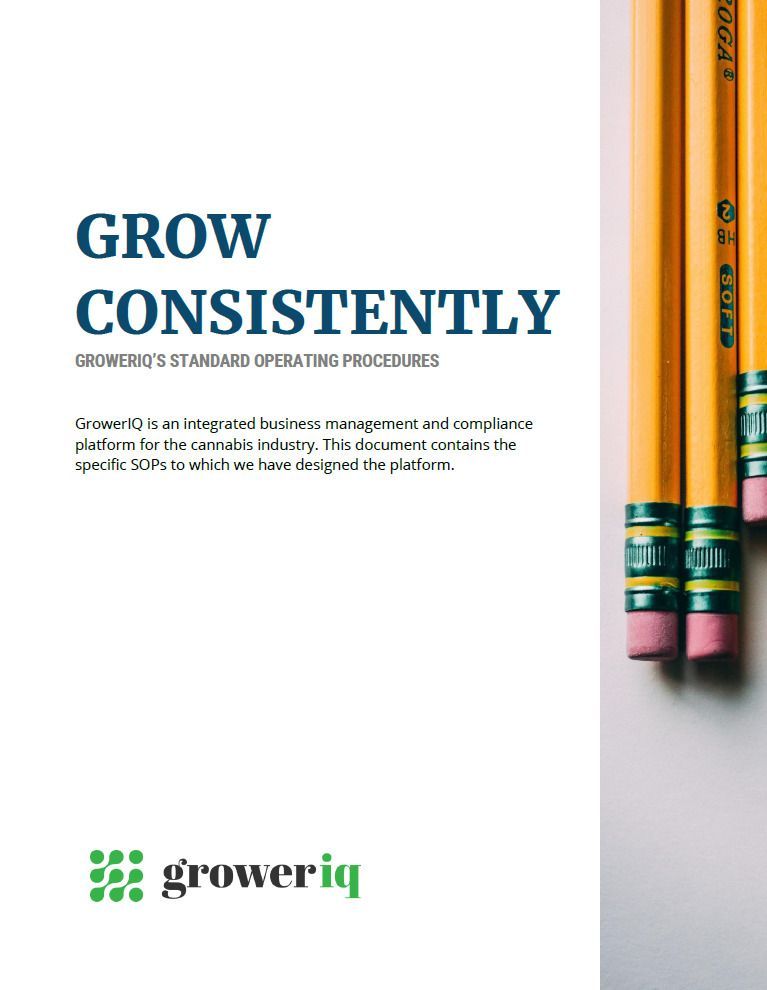 Don't know where to begin? We can simplify the process.
The standard cultivation license class includes more stringent security requirements, which lead to greater capital expenditures. In exchange, you are not limited in the amount of product you can produce.
Let's discuss your project in order to determine which of the license classes best supports you, what your differentiation strategy should be, and how to model your expenses. Nothing is more frustrating than spending time and money pursuing a class of license, only to find that it doesn't meet your long-term needs. Find out more on our consulting services by clicking the link below, or starting a chat to the right.
GrowerIQ is a complete cannabis production management platform. Ours is the first platform to integrate your facility systems, including sensors, building controls, QMS, and ERP, into a single simplified interface.
GrowerIQ is changing the way producers use software - transforming a regulatory requirement into a robust platform to learn, analyze, and improve performance.
To find out more about GrowerIQ and how we can help, fill out the form to the right, start a chat, or
contact us
.
Start today.
Let us know how to reach you, and we'll get in touch to discuss your project.
GrowerIQ does not share, sell, rent, or trade personally identifiable information with third parties for promotional purposes. Privacy Policy