Cannabis Seed-to-Sale Software
Bringing together systems, data, and insights to help you grow.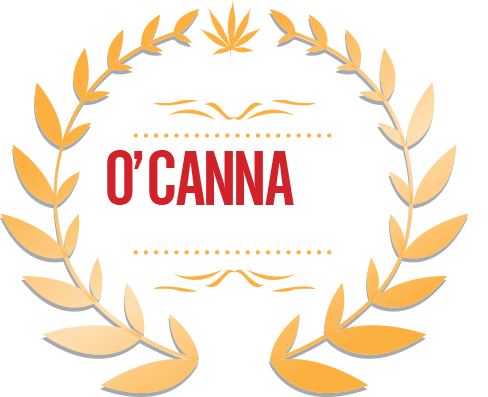 Best Cannabis Cultivation Product
GrowerIQ has been nominated in the 2019 O'Cannabiz Awards Gala under the category Best Cannabis Cultivation Product. We are so honoured and grateful to be recognized among top industry leaders!
An end-to-end tracking solution for the cannabis industry
GrowerIQ is a robust, new cannabis seed to sale software platform that helps Canadian Licensed Producers lower operating costs, while improving strain quality and consistency. With Canadian recreational legalization upon us, Licensed Producers must now find ways to reduce cost-per-gram, while cultivating brand loyalty to stand out.
GrowerIQ goes beyond basic Cannabis Act compliance. From the mind of a Master Grower, our platform emphasizes the business side of cannabis cultivation.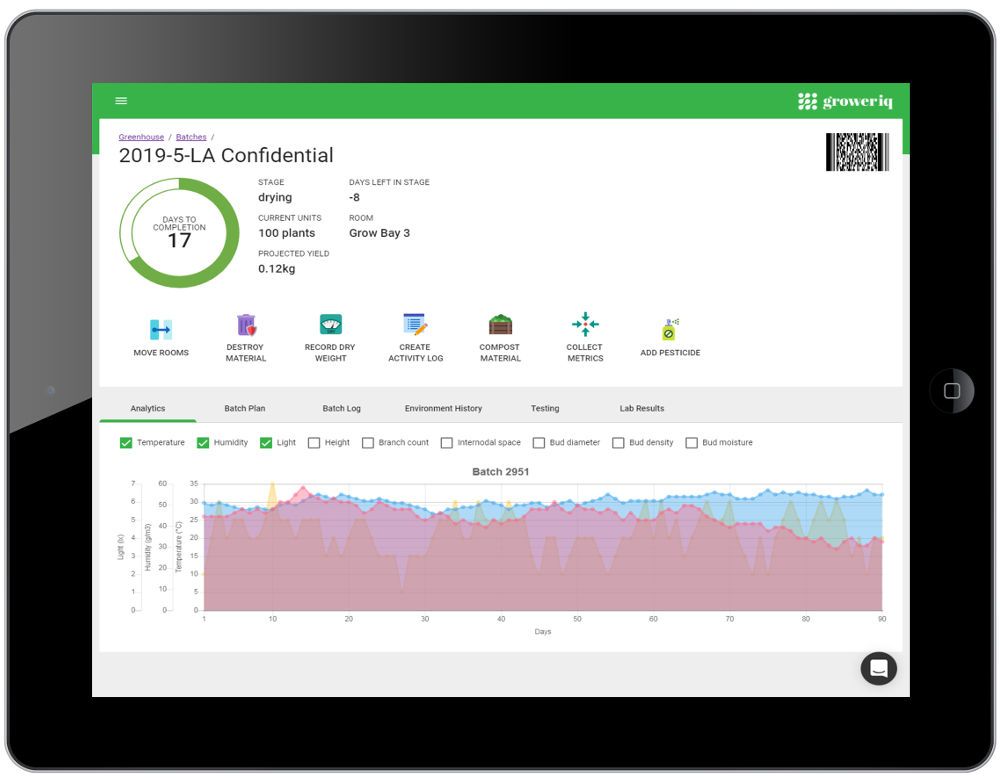 A picture is worth a thousand words. Understand the status of your current grow with the overview visualization.
GrowerIQ's integrated greenhouse management platform leverages these 5 machine learning strategies to help improve your grow.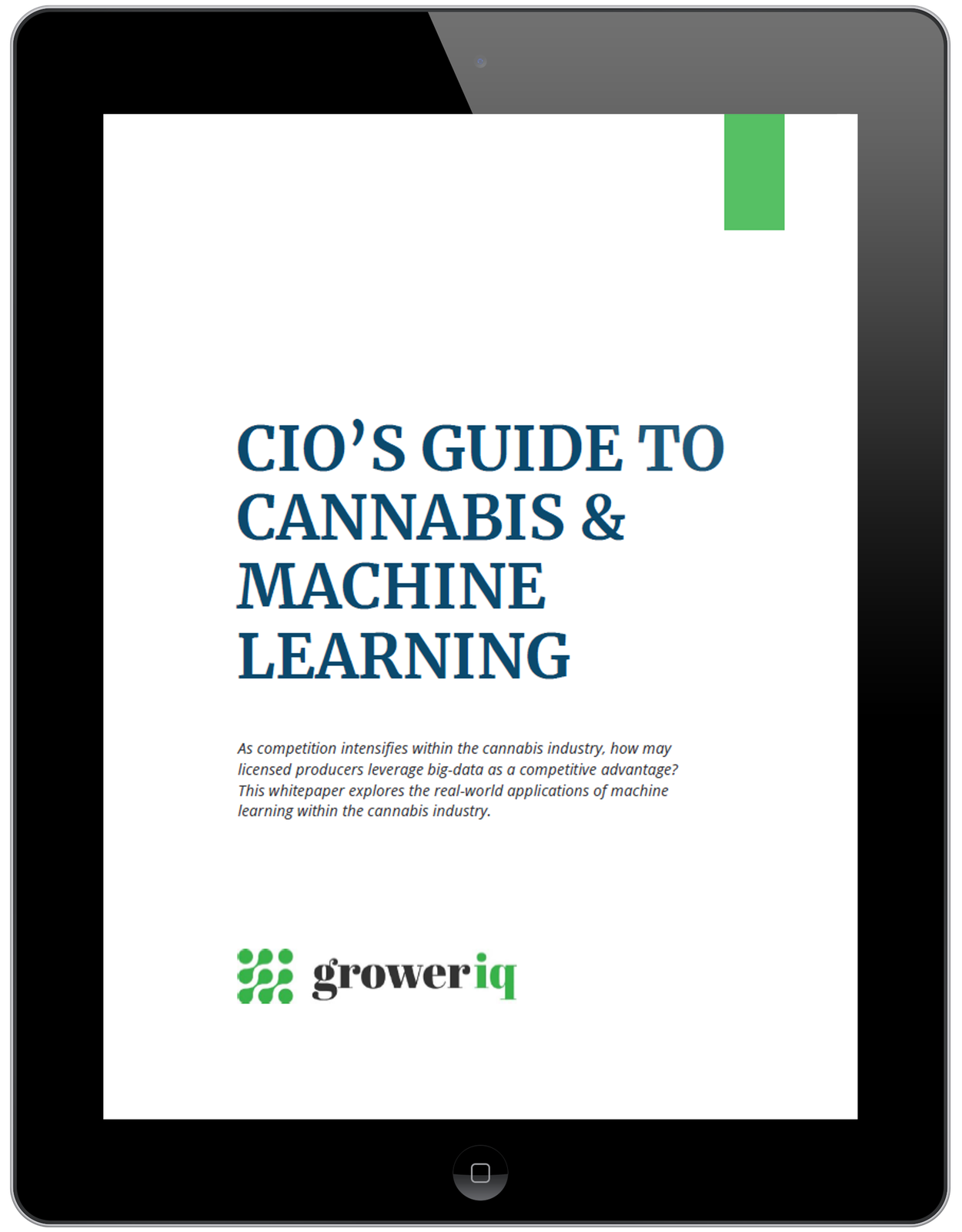 Fully Cannabis Act-compliant

Our greenhouse-in-a-box is compliant with both the Canadian Cannabis Act, and the previous Access to Cannabis for Medical Purposes Regulations. You'll receive an itemized breakdown of how the platform complies.

Master Grower-approved

We've partnered with an experienced Master Grower to ensure GrowerIQ is not only Health Canada compliant, but also user-friendly, and simple to operate.

Dedicated Customer Success team

Our team of knowledgeable specialists are readily available to help guide you through Health Canada's reporting requirements.
Environmental control integration

Bring all your data under one roof. GrowerIQ integrates with your sensors and environmental controls to create a comprehensive platform for data analysis.

Real-time inventory forecasting

GrowerIQ tracks your inventory down to the individual plant. With such precise analytics, GrowerIQ can forecast future yield, comparing it against historical yield data.

Optimize yield with machine learning

Our machine learning functionality consolidates your grow data and provides actionable insights on how to improve quality and quantity. The more you use the platform, the more data our algorithms have to generate insights.
Optimize your cultivation by strain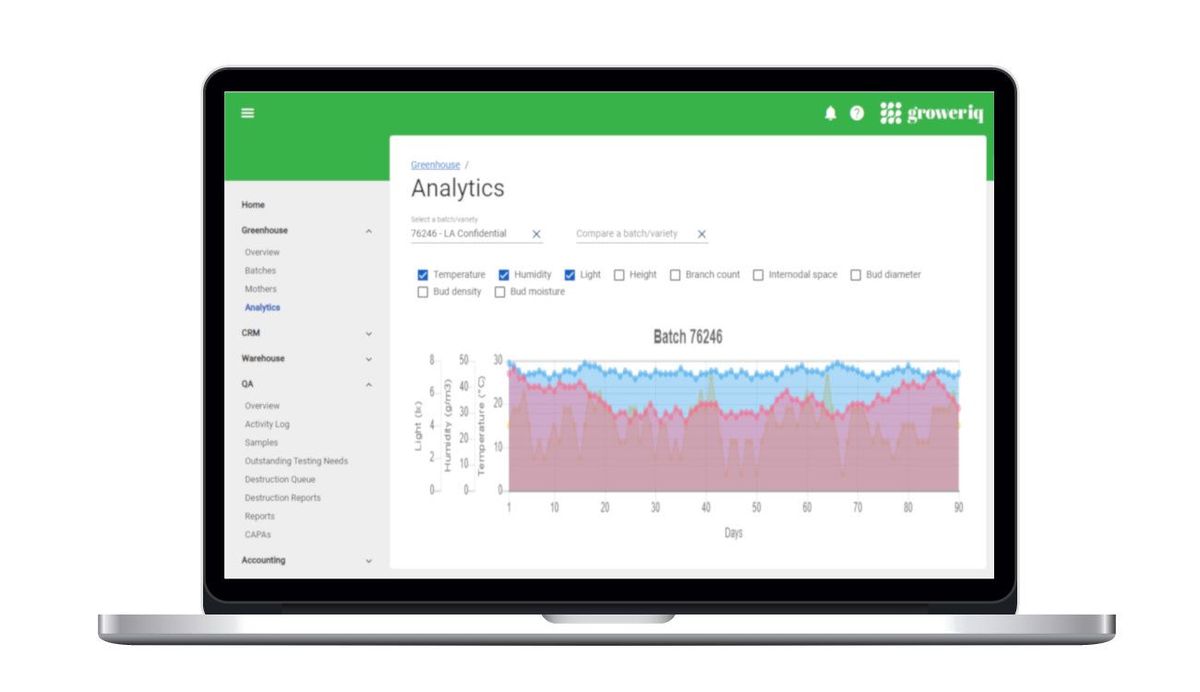 Make decisions based on data. Take advantage of our environmental sensor integration to highlight optimum grow conditions resulting in the most productive yields.
Environmental sensor integration

GrowerIQ is a complete platform. This includes hardware integration to help optimize your grow process. Your facility sensors are fully integrated into our platform.

Improve potency and yield

Our platform consumes data from your grow activities and environmental sensors to generate suggestions around optimal grow conditions.

Ensure product quality and consistency

Take advantage of the insights generated from our platform to ensure your product remains true to the highest standards of quality and consistency that your customers expect.
Gain insight into production costs
Track & project operating costs

You're running a business, not just an exercise in compliance! Assign resource and supply costs to automatically generate a holistic picture of how much it costs to run your facility.

Build effortless reports & charts

Keep your finger on the pulse of production with smart default reports that automatically update as you use the platform.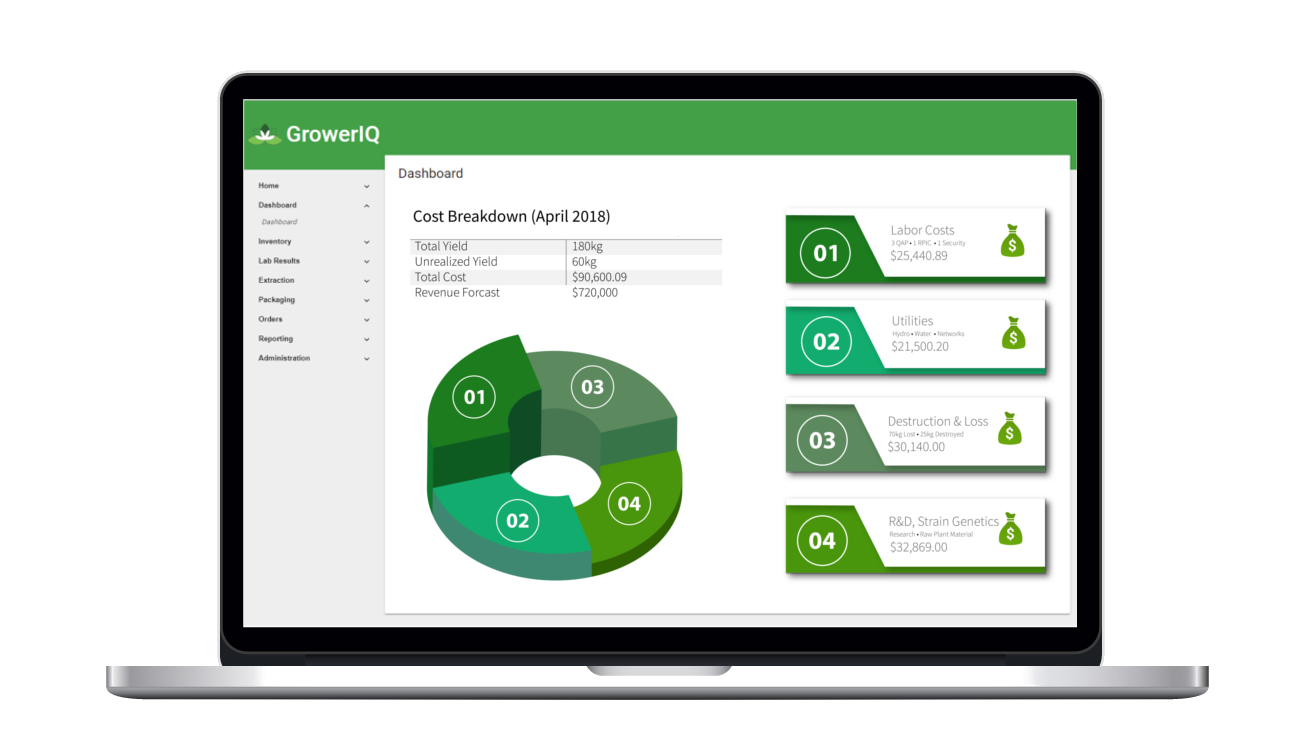 Focus on efficiency. Gain insight into the business you're running with built-in production cost reporting and analytics.
Stay on top of inventory and orders
Manage inventory from seed-to-sale

Never lose a plant again! Remain 100% compliant with every activity logged and timestamped.

Customize inventory reports and graphs

Gain a clear picture of your facility's production capabilities with simple, clear reporting.

Predict and prevent inventory shortages

Help your business gain clarity, and predict cash flow. Informed by our resident Master Grower, we take typical growth patterns into account when providing estimates on future saleable product available in your pipeline.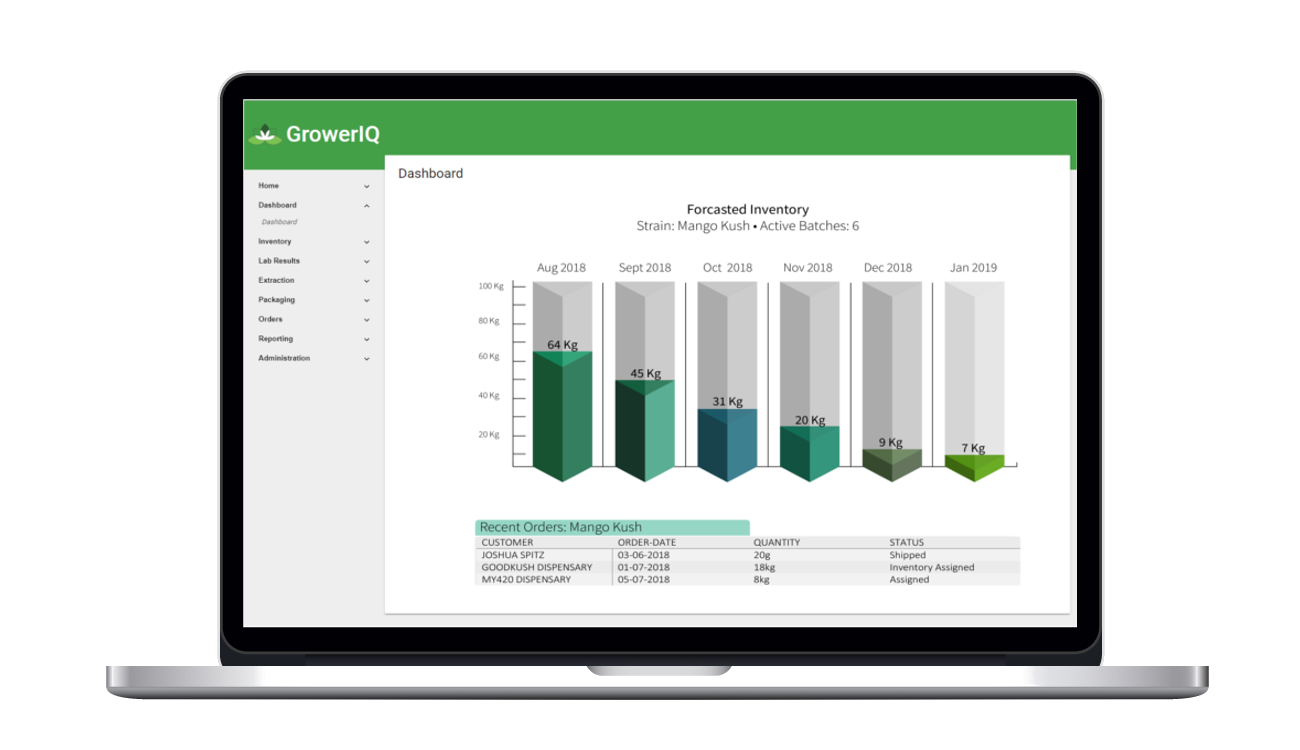 Never wonder if you'll have enough product. Partnering with an experienced Master Grower allows us to incorporate logical predictions for your grow and product pipeline.
Hardware & Software Blend
Your growers are busy. Empower them to perform their activities quickly and efficiently with our integrated mobile computers. Staff can scan batches, log cultivation activities, view history, pick orders, send labels for printing, and more. Automated logging and activity tracking means you won't have to make the tradeoff between being productive and remaining in compliance.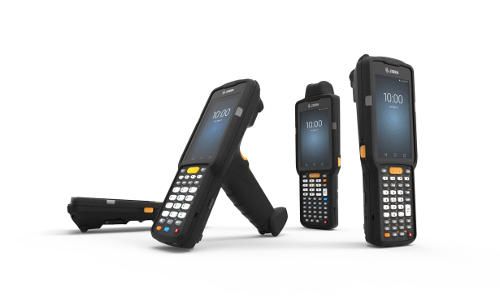 Integrate with your facility
Other software forces you to rely on 3rd party systems that don't integrate with your cultivation activities. GrowerIQ's seed-to-sale software automatically shows you facility environment readings right where you work. Alerts are customized based on ideal operational setpoints. Unsure of what's optimal? Our Master Grower consultations will give you peace of mind.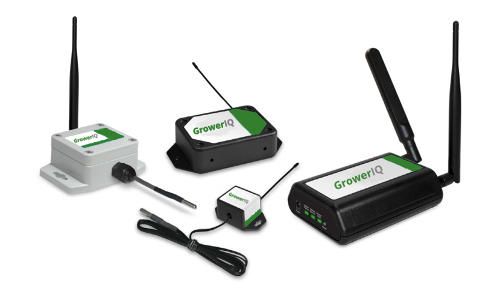 Maximize operational efficiency with one-click label printing from your mobile device. Compliant labeling can be complicated. In a highly regulated industry, how do you ensure the right tradeoff between compliance and product differentiation? GrowerIQ's seed-to-sale solution allows you to build custom templates, highlighting important characteristics.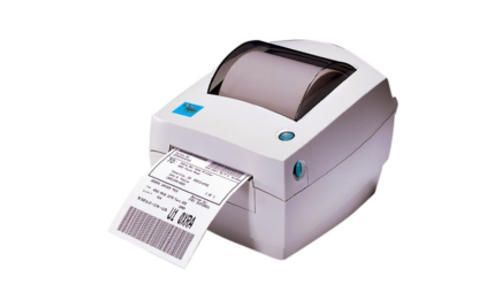 Industry experience you can trust
The Canadian cannabis industry is changing rapidly. At GrowerIQ, we have assembled an expert team to ensure that the GrowerIQ platform stays ahead of the industry trends, going beyond basic government compliance.
Shlomo Booklin, Master Grower & Cannabis Consultant

Shlomo is a recognized cannabis expert, having worked on numerous large-scale projects, both domestic and abroad, including some of the biggest names in Canadian cannabis. Shlomo is an approved Responsible Person in Charge, with security clearance from Health Canada. Paired with GrowerIQ's extensive experience in project management, process optimization, and system integration, Shlomo's expertise will help your licensed producer business gain a competitive edge. His expertise and proven methodology have been incorporated into the GrowerIQ platform, to ensure compliance and smooth, productive workflows.

You can usually find him on a plane, travelling between projects in Canada, Colombia, Macedonia, and Zimbabwe.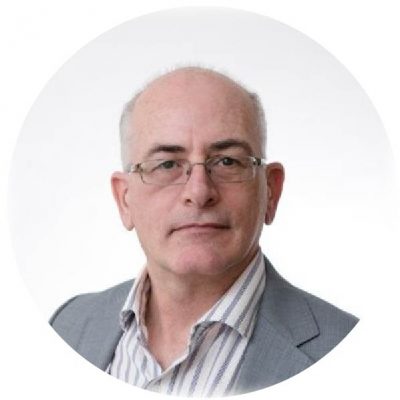 Wilcompute Systems Group

GrowerIQ is owned and managed by Wilcompute Systems Group. For over 25 years, Wilcompute has been a leader in custom software development, information technology, and business process services. Wilcompute has maintained decades-long relationships with multiple Fortune 500 companies, including Hewlett Packard.

The cannabis industry is bracing for change in both consumer habits, as well as government regulations. In such an uncertain environment, Wilcompute's commitment to long-term partnerships separates GrowerIQ from the competition, providing LPs with a safety net. GrowerIQ guarantees Cannabis Act compliance, advanced insights, and an ongoing commitment to improve the platform.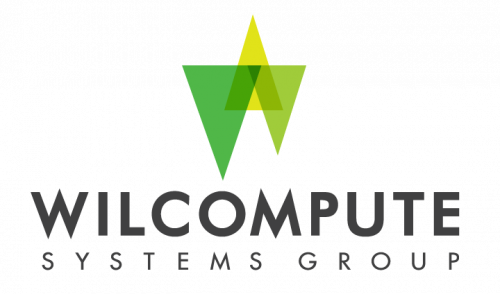 Featured Industry Partners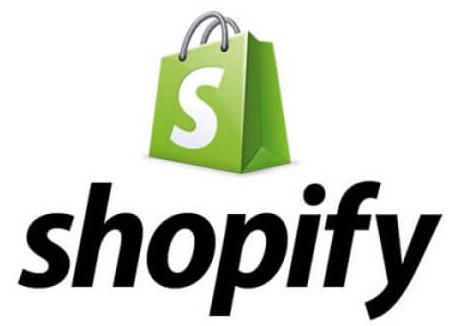 Shopify, trusted by global leaders at all levels of the cannabis industry, is a leading shopping solution enabler. Our seed-to-sale platform integrates with Shopify Plus to empower our clients to sell products directly to registered patients. With their help we can deploy a robust commerce solution that is built to scale with you. Customize your store, track sales, manage inventory and grow your business. Get in touch with our team to learn more on how to integrate tracking with checkouts.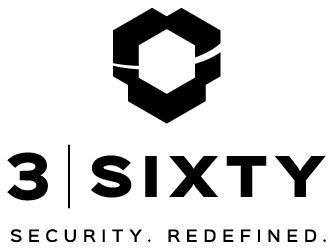 3|Sixty Secure Corp is a leader in the cannabis industry, as one of the first to offer regulatory security compliance and assessment consulting, facilities security, and guarding services to cannabis producers in Canada. As innovators in the industry, 3|Sixty has provided our staff with the knowledge and training to understand the sensitivity surrounding this unique industry. We work closely with licensed producers to provide a range of services specifically tailored to each company that reduce risk and enable success.
Mastering the Compliant Grow
Over more than 100 pages you'll learn everything from batch numbering strategies in a licensed facility, propagation, nutrient delivery, IPM and spider mite pest management, crop harvest, and more!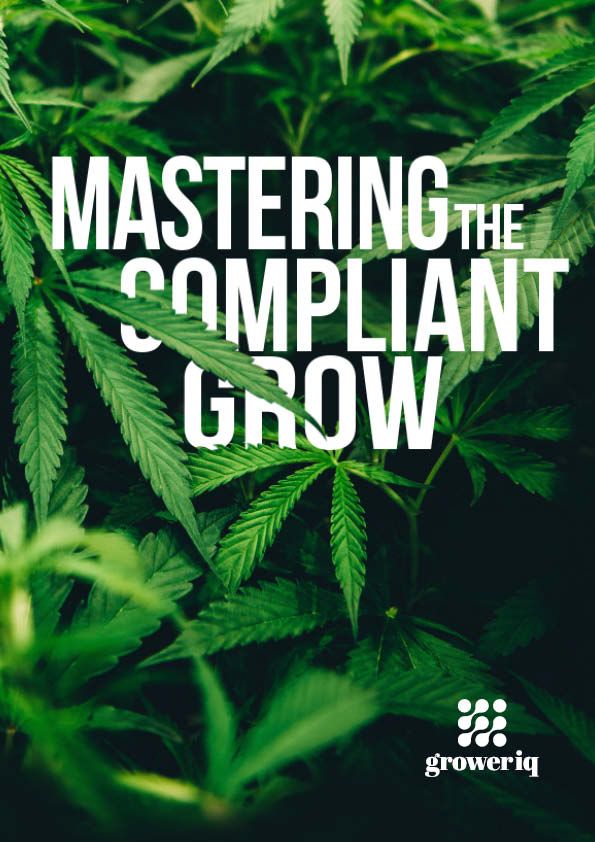 Don't know where to begin?
We Make The Process Simple
Get in touch. The first step is to connect with our team by filling out the contact form, or starting a chat to the right. We'll get in touch to discuss your project and identify the best course of action.
The first consultation call is always free! Ask about your licensing application, cultivation best practices, our seed-to-sale solution, pricing, implementation, or anything else - our highly knowledgeable team is on hand, ready to help.
Cannabis Consulting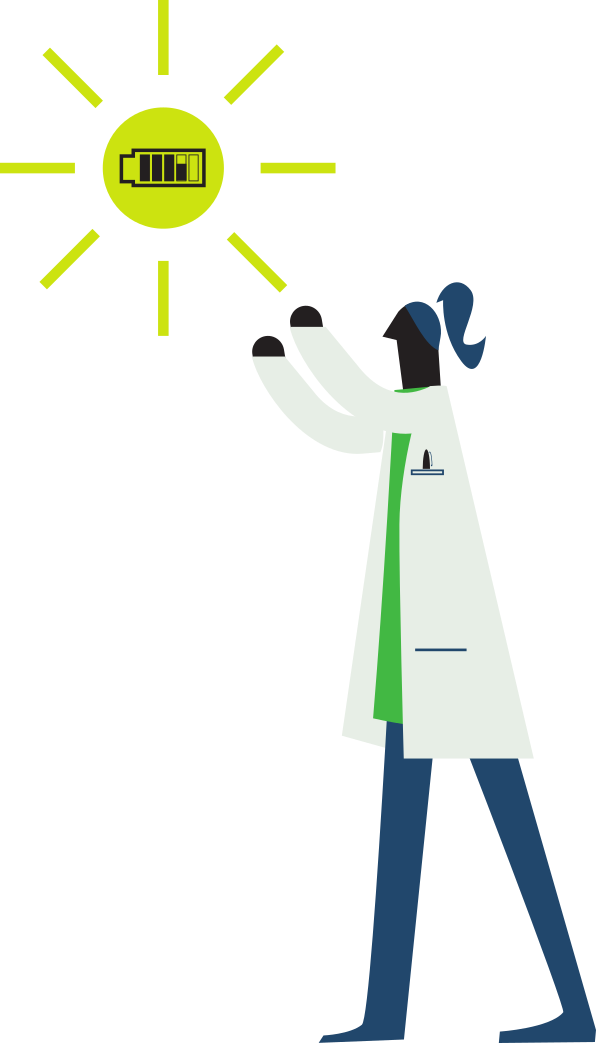 What's Growing On? Get the latest content delivered straight to your inbox
Join thousands of your industry colleagues on the What's Growing On? email list to receive premium content, case studies, and exclusive industry insights. All for free!