Industry-leading cannabis consulting services to licensed producers.
Do you have questions about the Licensed Producer application process, or about best practices to use in your facility? Wondering about the difference between GMP and GPP? We help simplify the complex!
Seed for Success is a collaboration between GrowerIQ and Master Grower, Shlomo Booklin. The cannabis consulting program provides everything you need to get your grow operations: business modelling, cannabis SOPs (cannabis standard operating procedures), micro-cultivation & standard class floor plans, GMP & GPP compliance documentation, and consulting services.
It's your greenhouse-in-a-box.
Sign up and download our whitepaper!
CIO's Guide to Cannabis & Machine Learning
Everybody that signs up for more information on our consulting services receives instant access to our cannabis & machine learning whitepaper.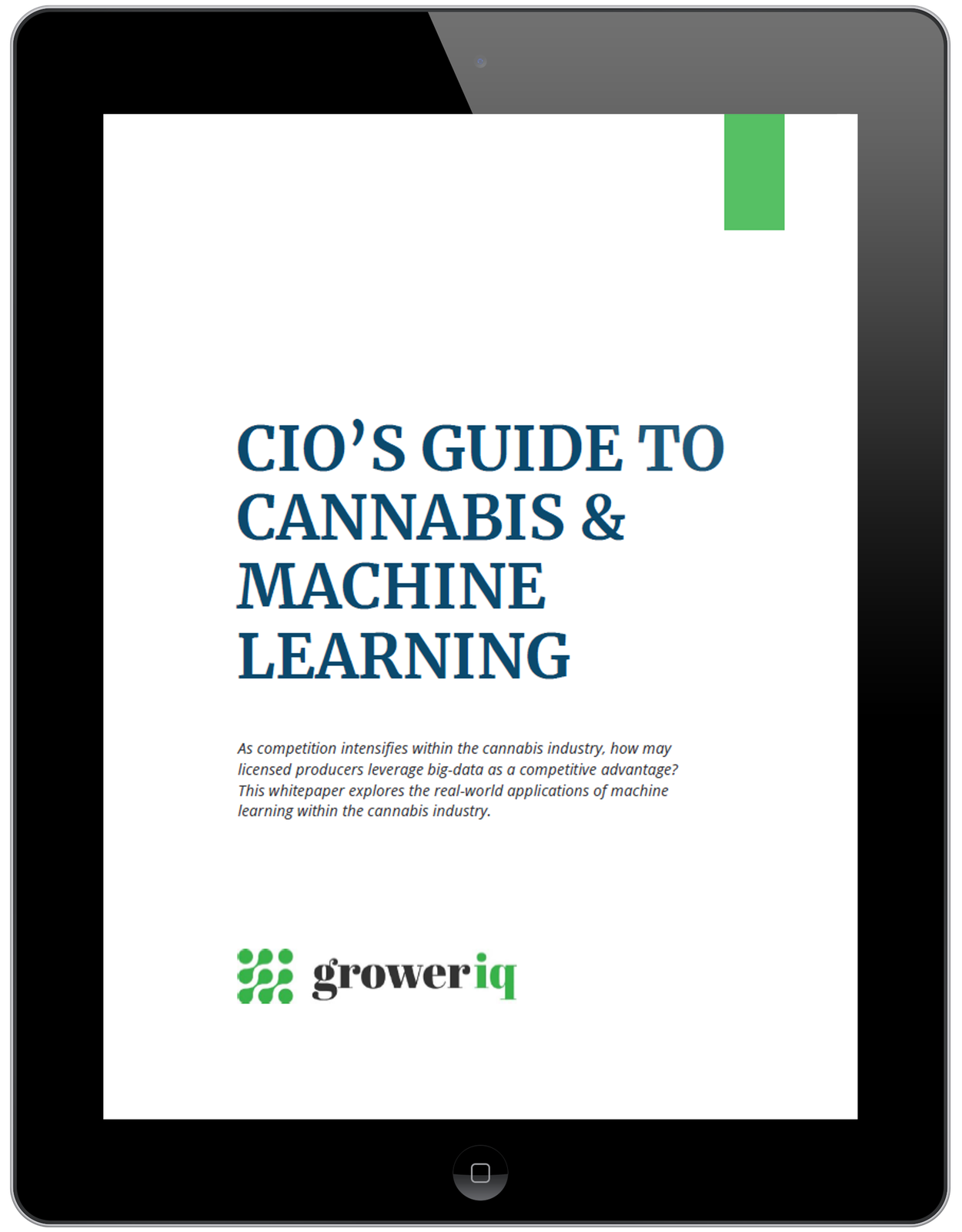 GrowerIQ's integrated greenhouse management platform leverages these 5 machine learning strategies to help improve your grow.
Get started in only a few minutes.
Let us know how to reach you, and we'll get in touch to discuss your project.
GrowerIQ does not share, sell, rent, or trade personally identifiable information with third parties for promotional purposes. Privacy Policy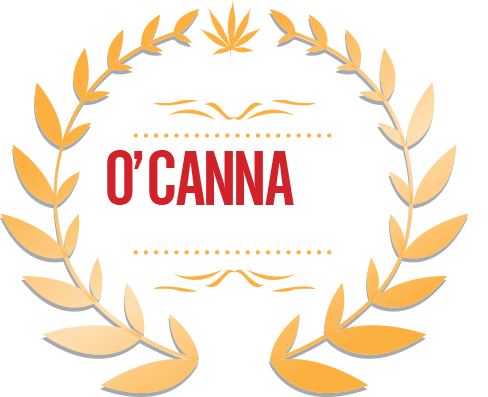 Best Cannabis Cultivation Product
GrowerIQ has been nominated in the 2019 O'Cannabiz Awards Gala under the category Best Cannabis Cultivation Product. We are so honoured and grateful to be recognized among top industry leaders!
What do our customers say?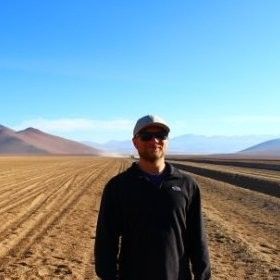 "Daniel and his team have far exceeded our expectations in assisting our family farm to create a professional business plan. He has gone above and beyond to answer additional questions and provide insight beyond the scope of the business plan. We look forward to furthering our relationship with GrowerIQ."
Jolan Dreyer
Founder, Latitude 56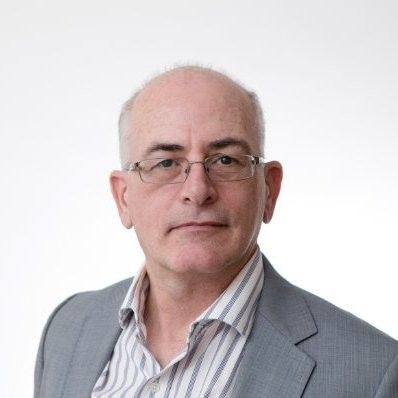 "The thing I like about GrowerIQ is the team is agile, dynamic, and diverse. You tailor the solution to the customer's needs, which stands out in the marketplace today."
Shlomo Booklin
Master Grower
What's included in your cannabis consulting service?
Support and materials for crafting the best application to become a licensed producer

A competitive grow strategy, designed by a Master Grower, for your unique facility

Proprietary grow guide of more than 100 pages filled with Shlomo's proven best practices

UNLIMITED support from GrowerIQ with single dedicated point-of-contact

UNLIMITED consulting time and strategy revisions

Set of templated GMP & GACP-compliant Production & QA SOPs for submission

Sourcing of additional SOPs as necessary

50+ page technology compliance guide to simplify your application

Recommended vendors & partners that ensure interoperability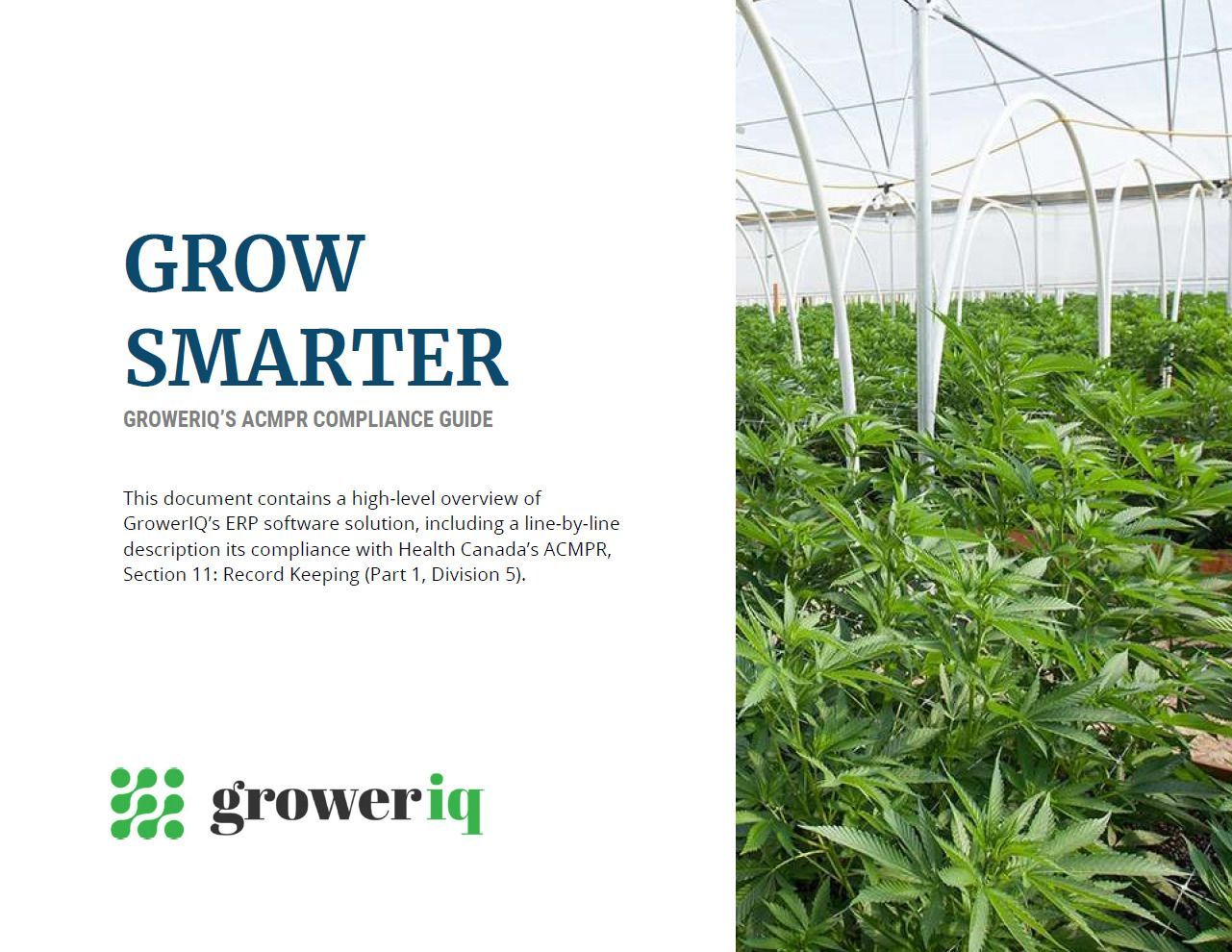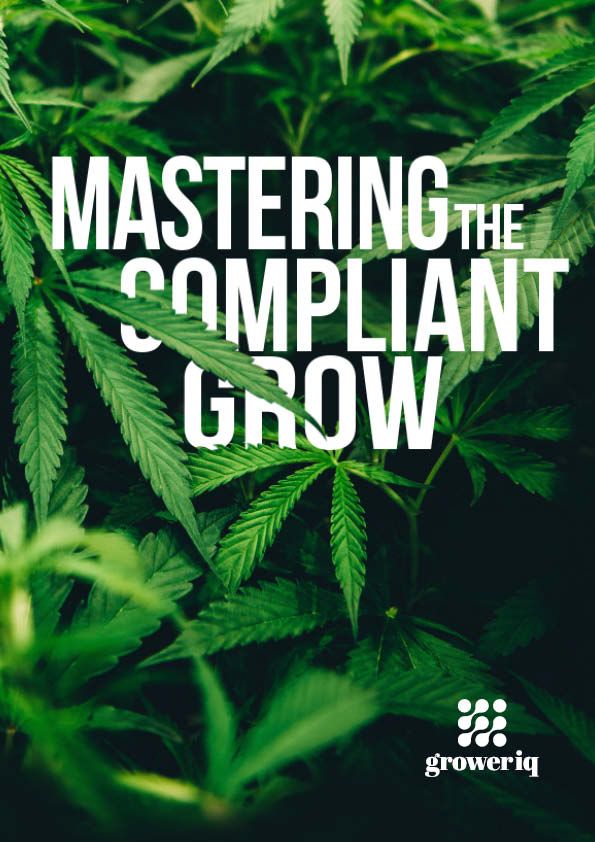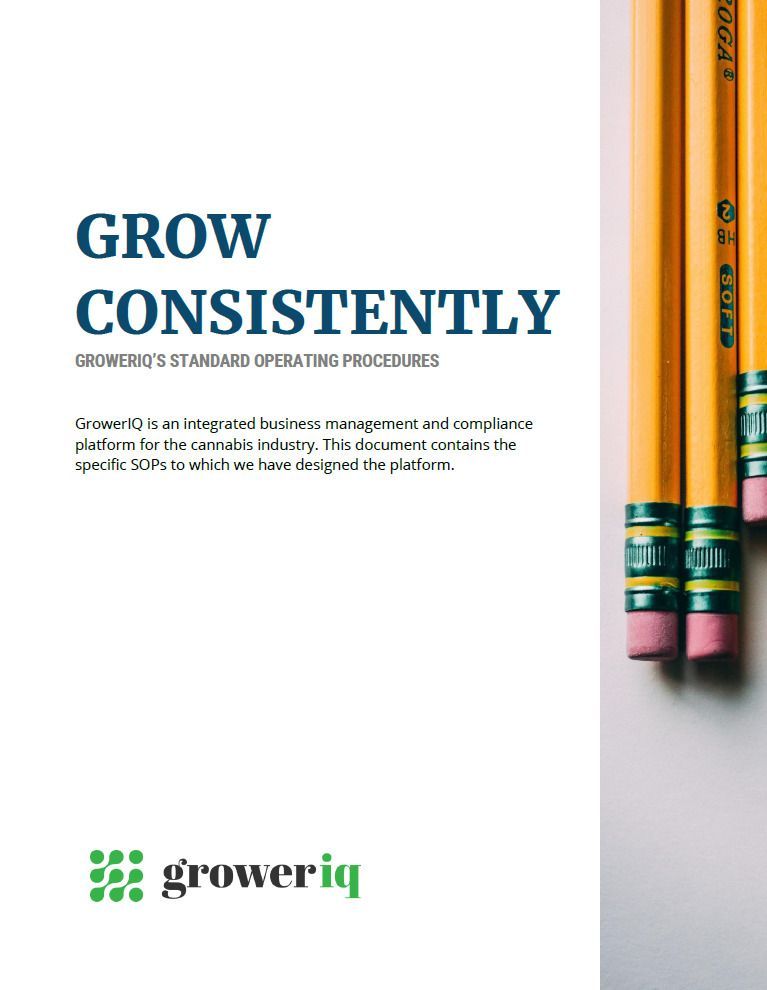 What light spectrum should I target for each growth stage?
Plants can differentiate light based on its electromagnetic wavelengths. Light that is not visible to humans, like ultraviolet (UV), is visible to plants. This ability also lets plants sense the time of day because the wavelengths of light, which correspond to colours, change from sunrise to sunset. Plants can also sense brightness and intensity of light, light exposure length, and even location of light sources. While plants lack a nervous system to translate light into pictures like humans, they are very much able to "see" in a way that is as complex as human sight.
We work with you to determine the best lighting options for both your facility and each stage of growth. You will want the most energy-efficient and cost-effective option, balanced with producing the best product.

Cannabis Consulting Services Team
Shlomo is a recognized cannabis expert, having worked on numerous large-scale projects – both domestic and abroad – including some of the biggest names in Canadian cannabis. Shlomo is an approved RPIC, with security clearance from Health Canada. As a consultant, Shlomo has written successful license applications for emerging LPs around the world. Paired with GrowerIQ's extensive experience in project management, process optimization, and system integration, Seed for Success is a complete package to help your new LP gain a competitive edge.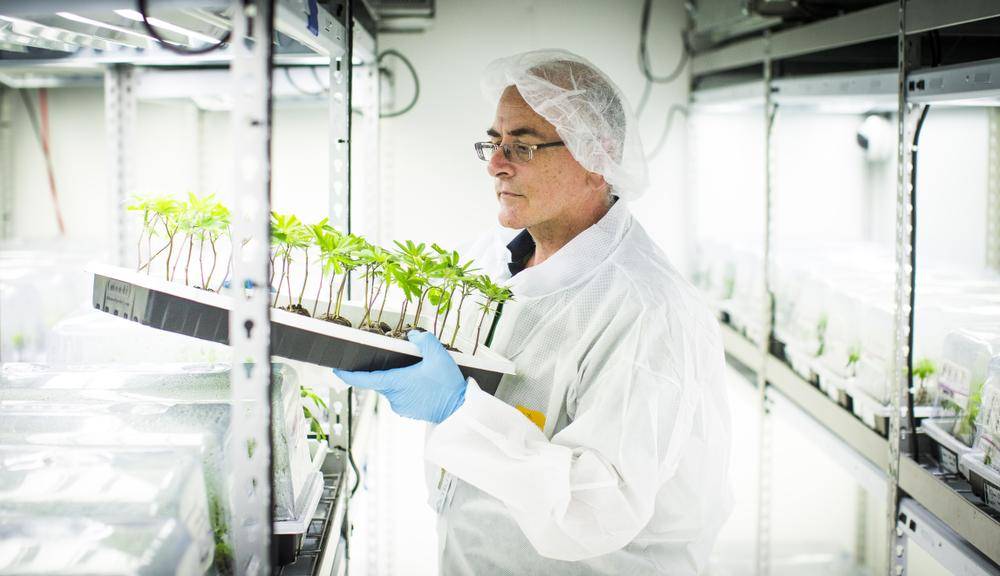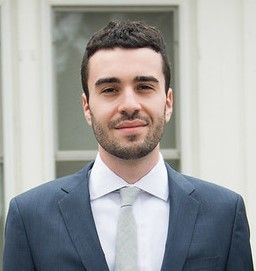 Daniel is GrowerIQ's project lead. He is a cannabis industry contributor, with over 5 years' experience in process optimization, technology, and strategic business planning. With a diverse background managing large-scale projects, Daniel brings a process-oriented approach to Seed for Success. Daniel is the point of contact for new projects and strategic partnerships at GrowerIQ.

Sherry has been active in the biotechnology industry since 2010. She is experienced in developing quality management systems and documentation for regulatory compliance under GMP guidelines. Her background in microbiology, cell biology, and aseptic processing provide a scientific context for cannabis production methods. Sherry has a passion for plant science, especially in the areas of tissue culture and bioactive compound extraction.
GrowerIQ brings together systems, data, and insights to help you grow. We are an integrated business management & Cannabis Act-compliant seed-to-sale platform designed for the Canadian cannabis industry. Our platform integrates all your facility systems, including environmental sensors & controls, into a single interface, resulting in a simplified user experience, and a high degree of automation. We leverage proprietary machine learning technology, along with 30+ years of Master Grower expertise, to provide licensed producers with the business insights they need to optimize yield and improve the quality and consistency of their product.
Finally, through our exclusive insights partnership with Master Grower, Shlomo Booklin, GrowerIQ provides expert cannabis consulting, helping new and emerging LPs define and implement a competitive market and cultivation strategy.
Frequently Asked Questions
Who can benefit from Seed for Success cannabis consulting?
Seed for Success helps new and emerging LP-applicants craft and execute a competitive cultivation strategy. The cannabis market is saturating quickly; to achieve long-term success, producers must take a business-first approach. Shlomo understands this first-hand, having spent years growing low-margin crops like poinsettias at commercial scale. Later in his career he applied these same principles as Head Grower for cannabis juggernauts, Tilray and MedReleaf.
By leveraging Shlomo's best practices and decades of experience, Seed for Success will help you design and implement a commercially viable cultivation facility.
What is the GrowerIQ platform?
GrowerIQ brings together systems, data, and insights to help you grow.
Typically, LPs use 4 primary systems: seed-to-sale tracking, ERP/analytics, environmental monitoring, and facility control. Most LPs procure these 4 systems separately, resulting in limited connectivity and a negative user experience.
GrowerIQ combines these 4 disparate systems into a unified, turn-key software platform for facility management. We work closely with your team to ensure that all equipment procured is compatible with the system infrastructure, allowing us to achieve a high level of automation and performance.
Is using the GrowerIQ platform required?
As cultivation consultants, our passion and focus is to help your team define a cultivation strategy that meets your business goals. Using the GrowerIQ platform is not required, although it's highly recommended! We've jam-packed our system full of Master Grower insights, intuitive processes, and machine learning analytics to help you not only execute, but continuously improve your cultivation strategy.
How will Seed for Success help my application process with Health Canada?
GrowerIQ will provide you with SOP templates (PRO, QAS) that have been approved by Health Canada in successful applications. Your QA team is responsible for customizing the templates to your unique facility. Further, in addition to the SOPs, GrowerIQ will provide you with a 50+ page technology compliance guide to submit to Health Canada. This guide includes a line-by-line description of the GrowerIQ platform's compliance with B-C45, Part 11, with corresponding screenshots and examples.
What if I need help customizing SOPs, or preparing my final application?
The strength of the Seed for Success program is the team behind it. Through our extensive network of industry partners and consultants, we can assist you in procuring additional Good Manufacturing Practices (GMP) SOPs, customization services, and 3rd party consulting, as needed.
I have a large project that requires deeper collaboration, can I consult with Shlomo exclusively?
Shlomo is among the industry's top cultivation consultants. With ongoing cannabis projects around the world, exclusive consulting arrangements are not possible. That said, those who know Shlomo will know how personally he takes his work. Shlomo is directly involved in all strategy and cultivation decisions, ensuring your project is given a personal touch. Additionally, you will be assigned a dedicated GrowerIQ project manager, who will provide unlimited project consulting, and will act as the direct link between Shlomo and your team.
Don't know where to begin? Let us do the heavy lifting.
Schedule Your GrowerIQ Introductory Chat